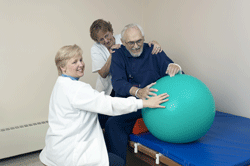 The Rehabilitation Unit is directed by Dr. Alan Glaser and is staffed by a team of caring professionals made up of Nursing, Physical Therapy, Occupational Therapy, Speech Therapy, Social Services, Dietary, and Activities. The team reviews each plan of care weekly, in cooperation with the patient and family. During the team meeting progress is reviewed, goals are set for the upcoming week, and discharge plans are made.
Each patient's medical status is monitored and modified by our on-staff Nurse Practitioner, the covering physician, and our dynamic nursing team. Follow-up appointments are scheduled with referring physicians with proper documentation to assure continuity of care upon discharge.
Coordination of care with other specialists or testing is scheduled as indicated by the resident's condition.
If you have an illness, injury, or planned surgery and find yourself in need of rehabilitation, join us at our newly renovated Rehabilitation Unit. Give us the opportunity to let you experience our caring, compassionate, skilled staff as you work towards your return to home.