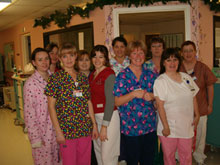 As these are available, we will provide below a list of the current job openings at Countryside Health Care of Milford. Interested applicants are invited to come to the facility to fill in the required application forms. Nursing and CNA applicants are asked to bring appropriate licenses for photocopying.
To apply for a position with Countryside Health Care, please download, complete and mail or fax your employment application to us. For security reasons and to protect your personal information, PLEASE DO NOT email or upload your completed Employment Application to us.
You may view, download, complete, and save your application form as an interactive PDF form. Once you have completed the form, you amy save it to your computer, print it out, and then mail or fax it to us as below., click here, download the application form (PDF file) and complete the form, save it to your computer, and print out and mail or fax it to us as below.
For all employment applications, please fill out and either mail your application to One Countryside Drive, Milford, MA 01757 or FAX it to (508) 902-0309. For security reasons, PLEASE DO NOT email or upload a completed Employment Appilcation to us.
Resumes
You may email or upload your resume to Michael Isabella, Administrator, using the form below.
If you have any other or additional questions about employment, please use the form below.
Additional Employment Forms
Additional forms are required in order to complete your application for employment, including an Authorization to Release Information, a CNA Registry Check, and a Criminal Offender Record Information (CORI) Acknowledgement Form. Each of these forms may be viewed and downloaded below.